Pediatrics Qbank+
Refine your Pediatrics knowledge! Use 2,180+ questions to compare and contrast details of Peds concepts and move this refined, more-detailed knowledge into long-term memory.
2024 MOCA-Peds questions will release—and automatically update in Qbank+ customer accounts—in January 2024. 2023 MOCA-Peds questions available now. 
What's included

2,180+ pediatrics Q&As, carefully created according to the ABP content outline
1 year of access to the entire question bank
Unlimited practice exams
100 CME & MOC

This product is certified for AMA PRA Category 1 Credit™ .

You can earn up to 100 CME credits and MOC points
Regular price

Sale price

$449.00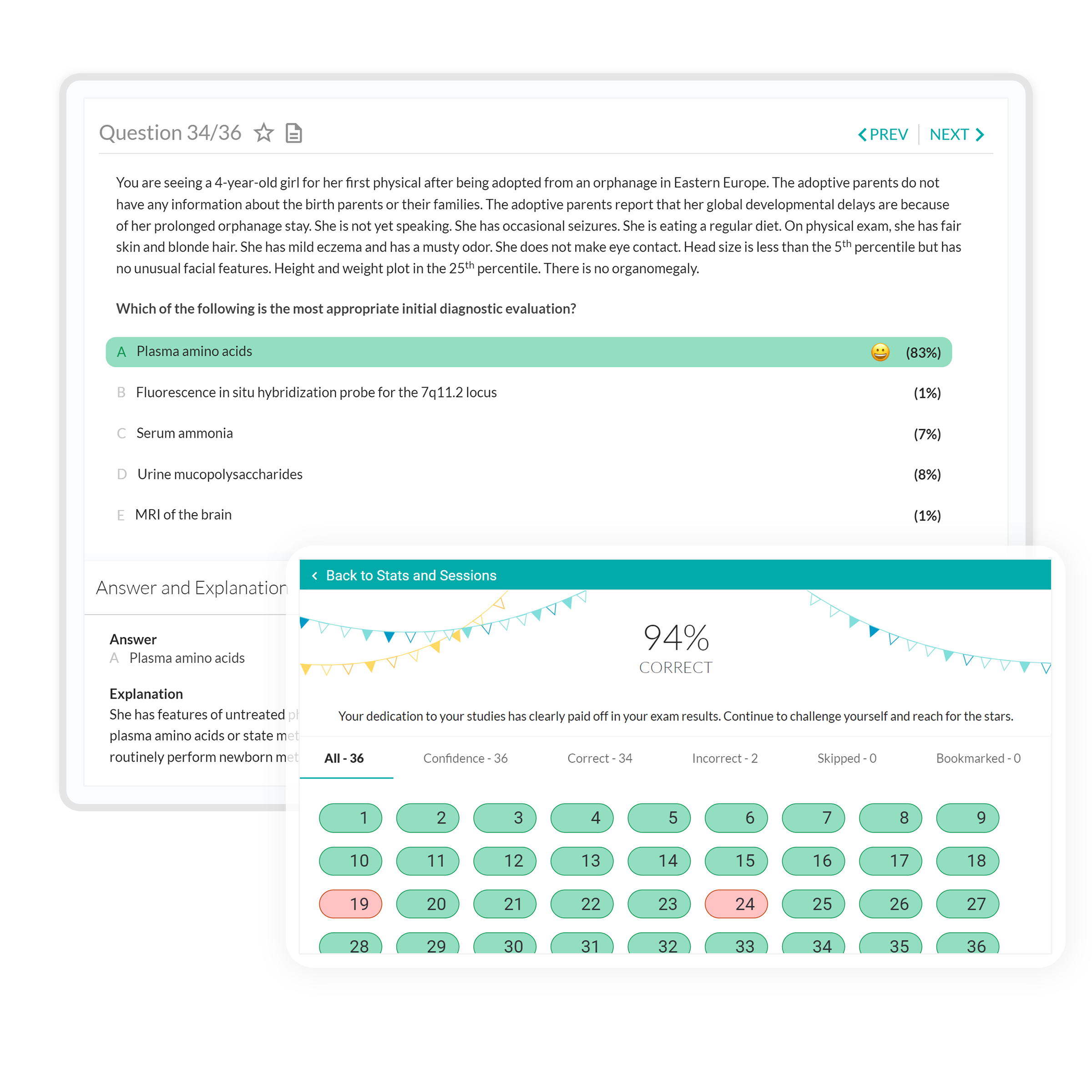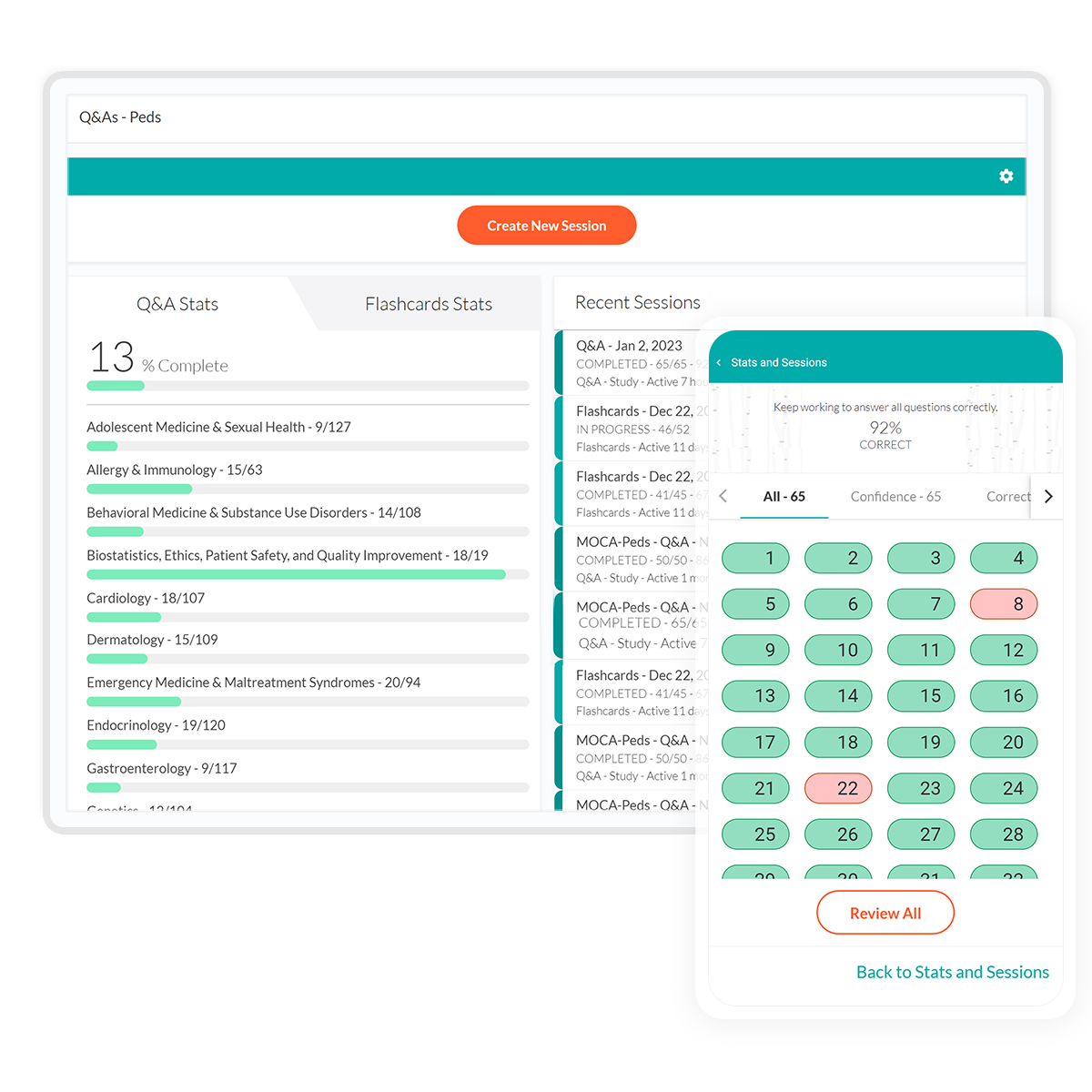 "The question bank was the most helpful for me to solidify what I know. There were a good diversity of questions that were pertinent on the board exam."

Jason Pesqueira, MD

"MedStudy Qbank questions were great and were very similar to the questions on my Board Exam. I liked that it broke down how I was doing in each subject by telling me my performance."

Luke Radel, MD

"The MedStudy questions were very helpful and the style, length, and content were more similar to the actual exam as compared to the PREP questions."

Albert Chow, MD
Thousands of pediatrics questions
2,180+ challenging board-style questions
Our Qbank+ interface mimics the board exam. Detailed explanations cover every answer option.
Timed & untimed sessions
Unlimited practice exams
Customize by subject, number of questions, timed or untimed, question type (bookmarked, skipped, previously missed, never viewed), etc.
interlinked content
Interlinked Core content
Every Q&A details where to find the same topic in the MedStudy Core. Digital Q&As are interlinked to the digital Core; get there in a single click!
The Core is sold separately.
Progress report
Track your progress through Qbank+
Easily see how many questions you've answered per section or topic.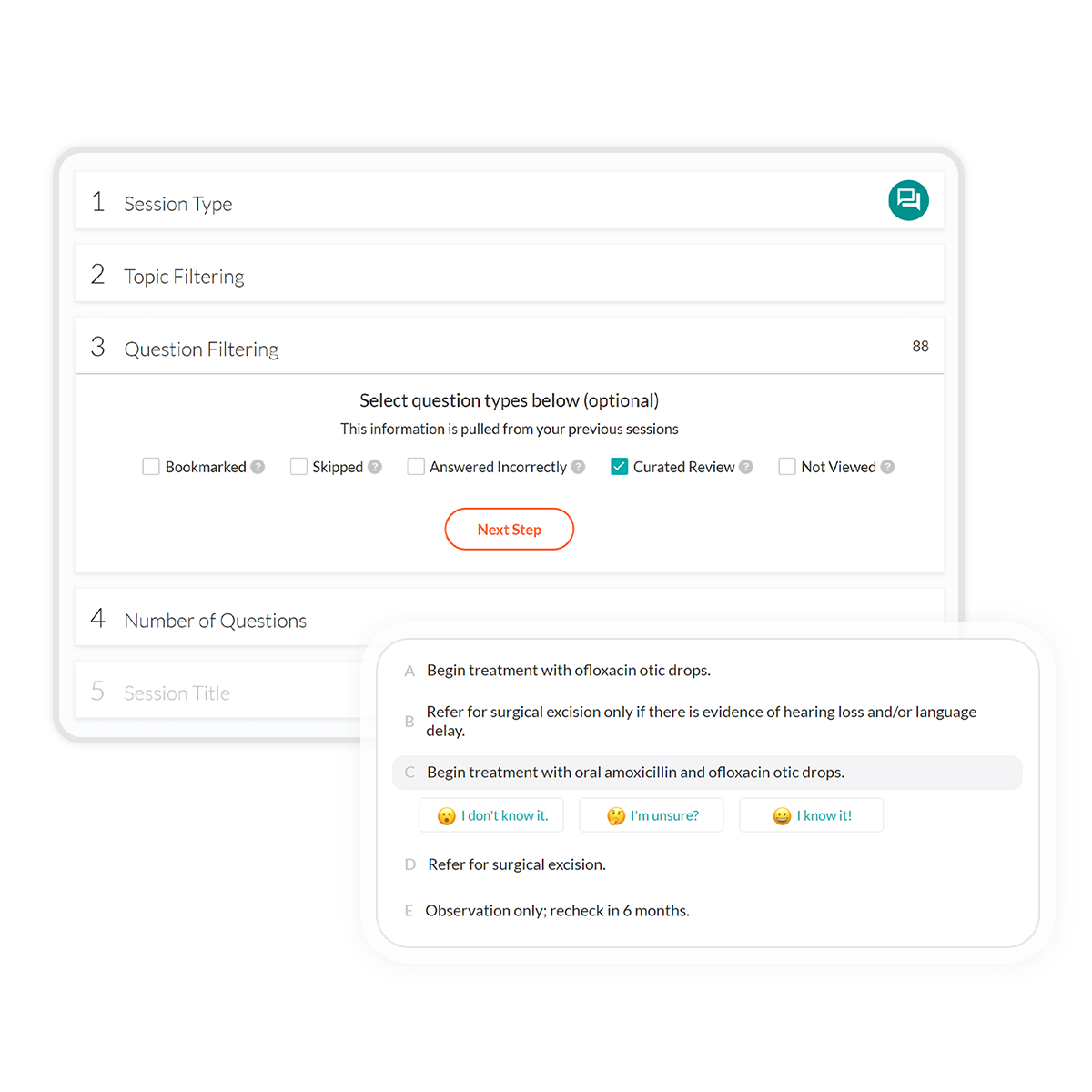 confidence levels
New! Curated question sets
Review questions last marked as "not sure" or "low confidence," as well as questions marked "high confidence" but answered incorrectly. Questions disappear from the list when you answer them correctly with high confidence.
The perfect way to repeat questions until you completely understand the concepts!
Get the entire Cardiology section for free
No credit card required! Get the entire Cardiology section of our digital Core, Qbank+ and Flashcards—free for 30 days.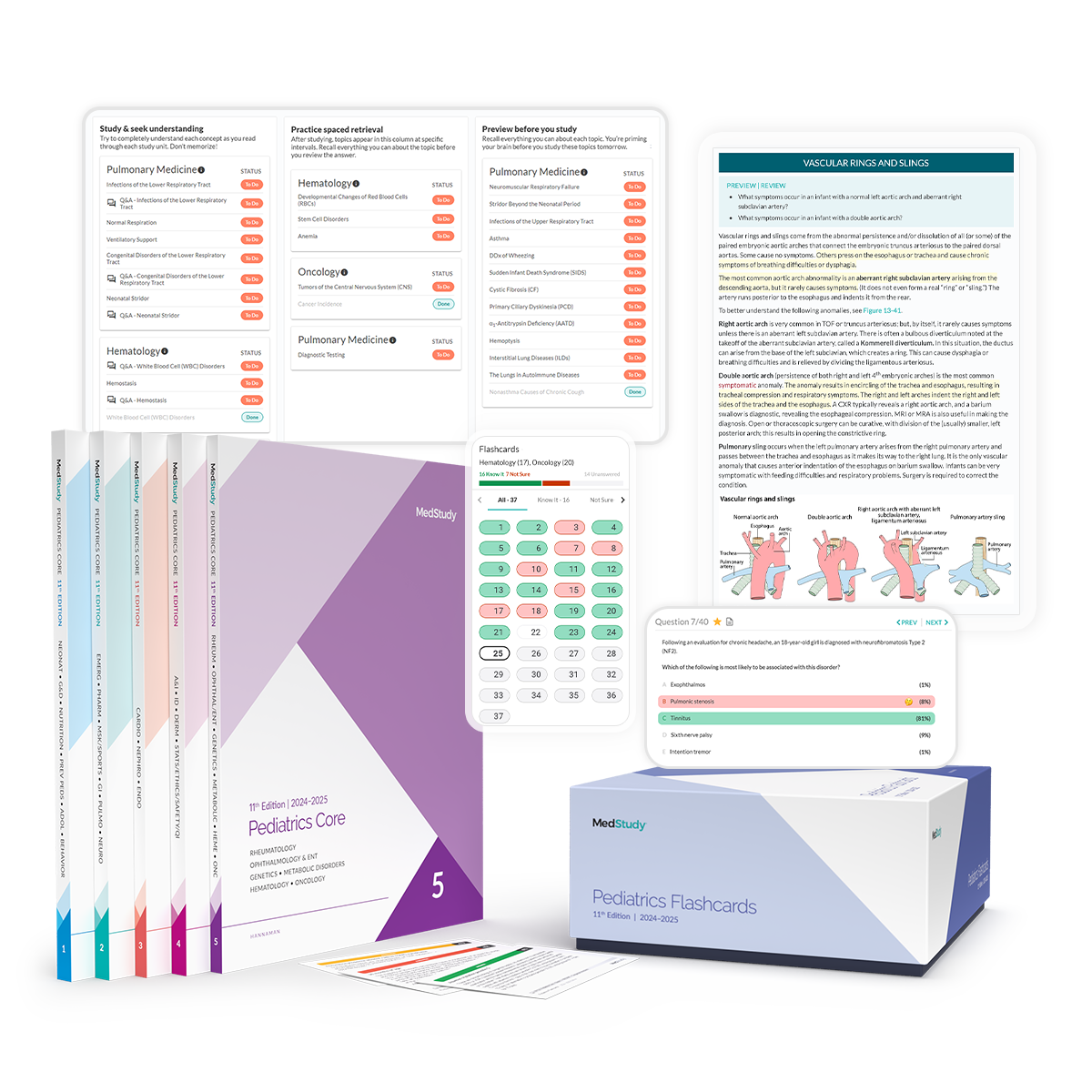 study strong essentials
Save $600 when you bundle with Flashcards and Core
Study Strong Essentials combines focused content with evidence-based learning techniques to ensure you achieve and maintain core competency.
Save with Essentials
We cover every topic you'll see on the ABP boards
Adolescent Medicine & Sexual Health
Allergy & Immunology
Behavioral Medicine & Substance Use Disorders
Biostatistics, Ethics, Patient Safety, and Quality Improvement
Cardiology
Dermatology
Emergency Medicine & Maltreatment Syndromes
Endocrinology

Gastroenterology
Genetics
Growth & Development
Hematology
Infectious Disease
Metabolic Disorders
Musculoskeletal & Sports Medicine
Neonatology
Nephrology
Neurology

Nutrition
Oncology
Ophthalmology & ENT
Pharmacology and Pain Management
Preventive Pediatrics
Pulmonary Medicine
Rheumatology
Urology
Includes 500+ MOCA-Peds questions
Affordable options for residency programs
One of our Program Partners will work with you 1-on-1 to meet your specific learning and budget goals.
Build your group package
Very thorough review questions
The questions in this Qbank are very thorough in terms of coverage of the questions on the boards. However, most of the questions on the boards are much shorter (in terms of the statement of the question) than what is found in this Q-bank. I completed about 60% of these questions and felt very prepared for the board exam (results pending).
Easy to find knowledge gaps
"I was able to know my weak spots and focus on that"
Improved diagnoses
"I was able to diagnose DRESS syndrome based off what I had learned from studying with MedStudy."
Choosing a selection results in a full page refresh.