NEW! Internal Medicine Qbank+
Refine your Internal Medicine knowledge with over 1,700 rigorously crafted internal medicine board questions, strategically designed to address the most likely-to-be-tested points in the latest ABIM® exam blueprint. Each Q&A is a rich learning event, transcending simple assessment or exam practice. They actively encourage second-order thinking and offer comprehensive explanations to deepen understanding.
Limited time offer: 12 months access for 50% OFF!
Order by 12/31/23 to save. 
Regular price

$449.00

Sale price

$224.00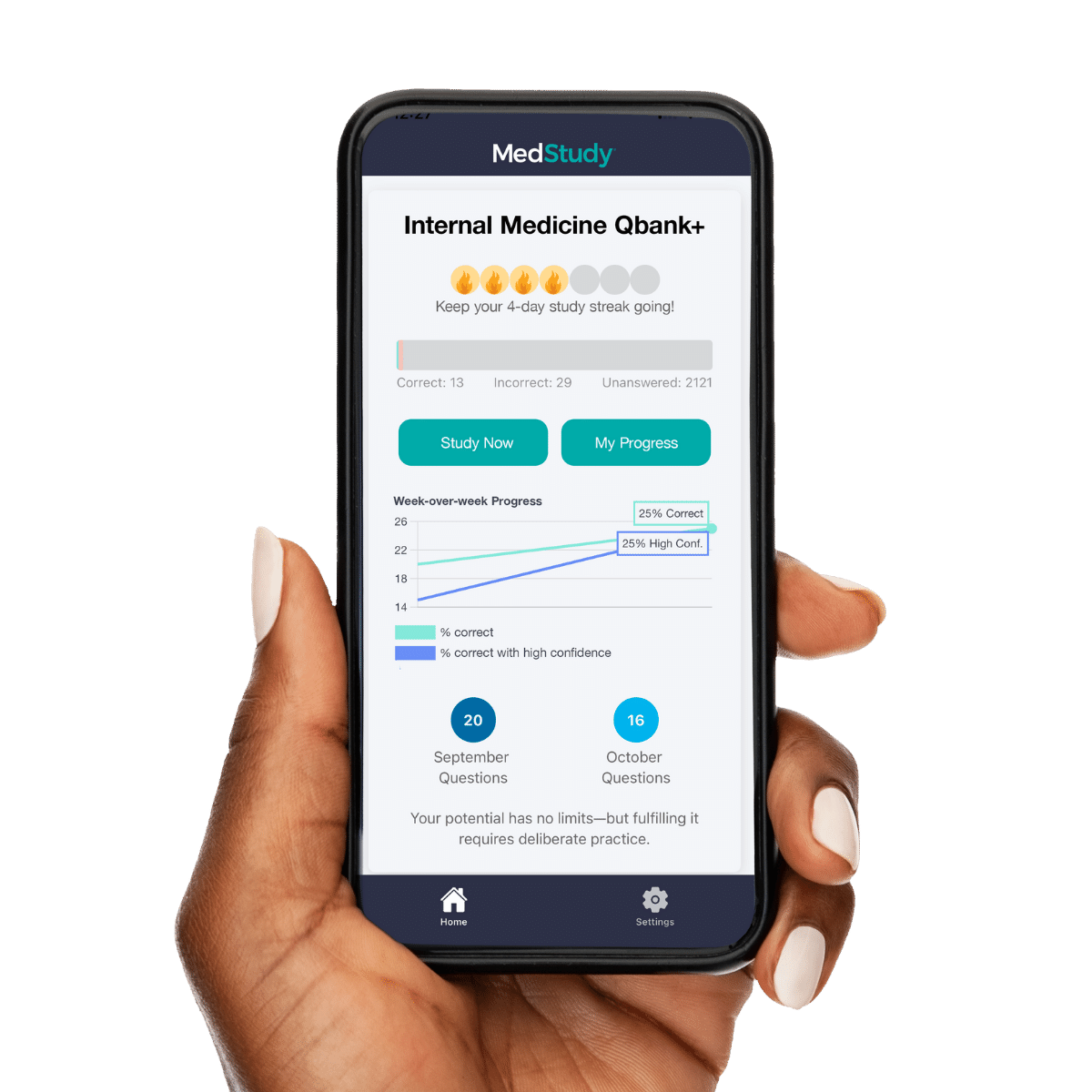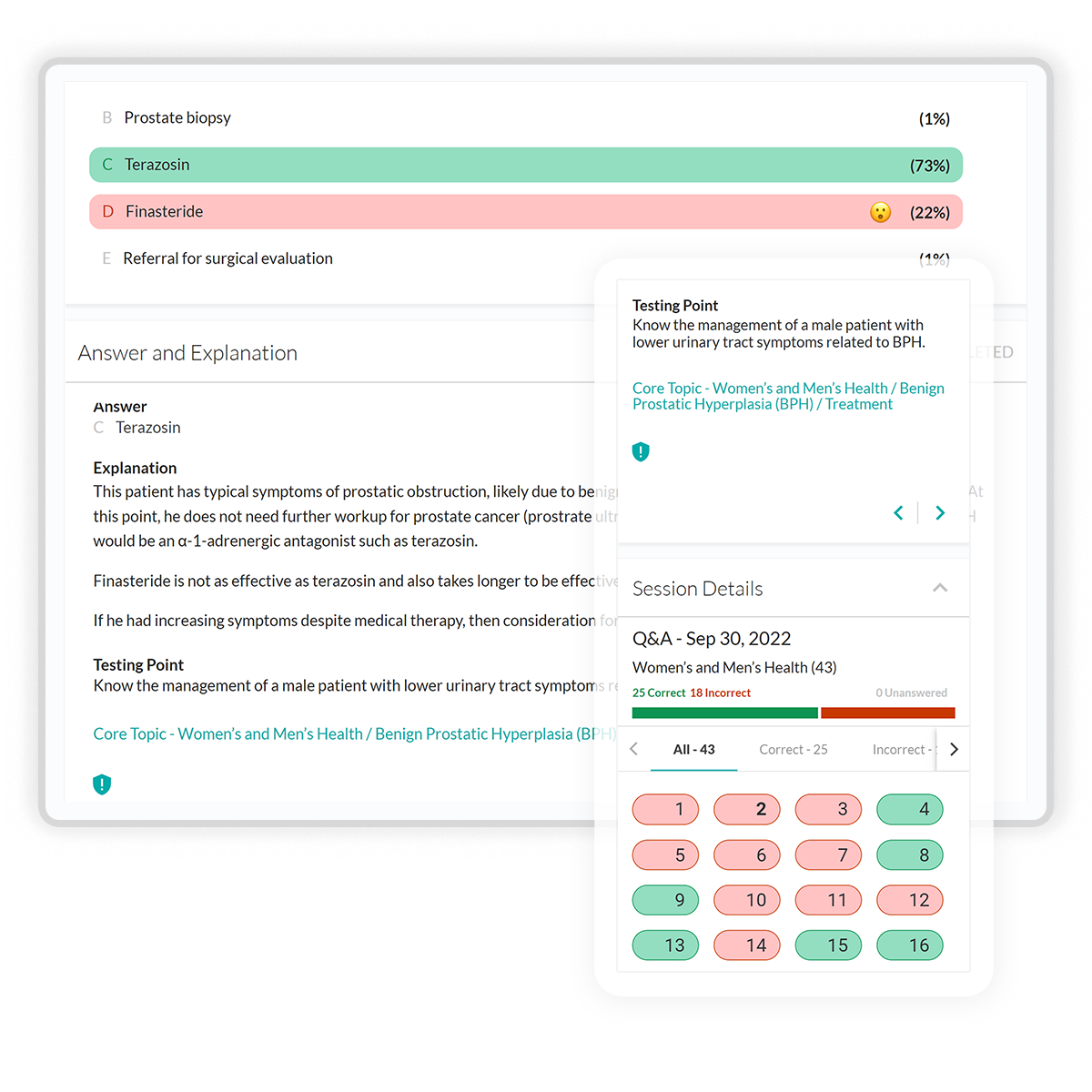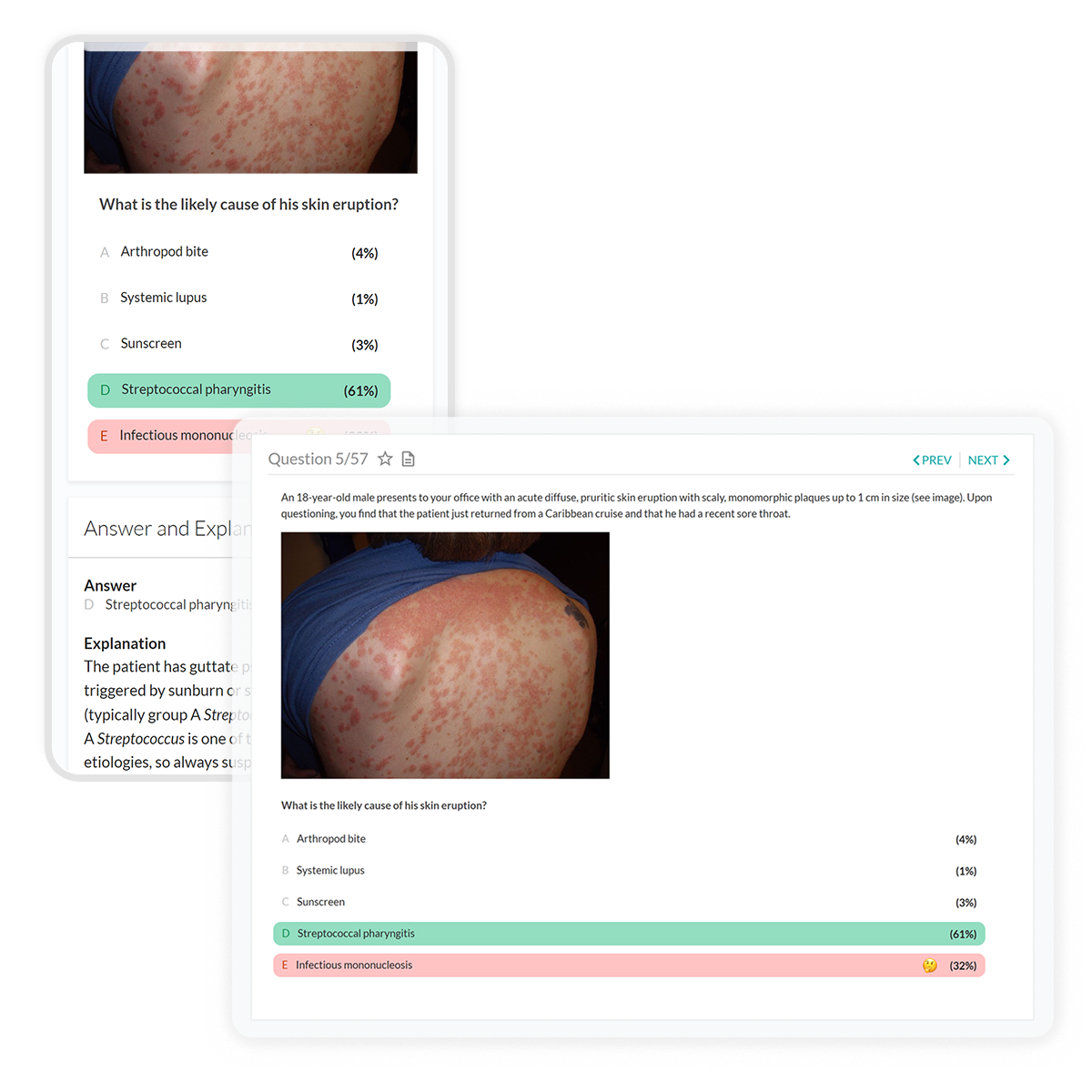 Here's a sample of IM Qbank+ question content
MedStudy App Now Available!
Take Qbank+ on-the-go
The MedStudy mobile app makes it simple to study anywhere, anytime. Get streamlined reports and daily motivation, and never lose your progress.
Explore the app
"I'm confident that this all-new Qbank+ is a huge leap forward in IM board preparation. There's absolutely nothing that matches its board-focus and extraordinary content."

Robert A. "Tony" Hannaman, MD, MedStudy Founder and Editor-in-Chief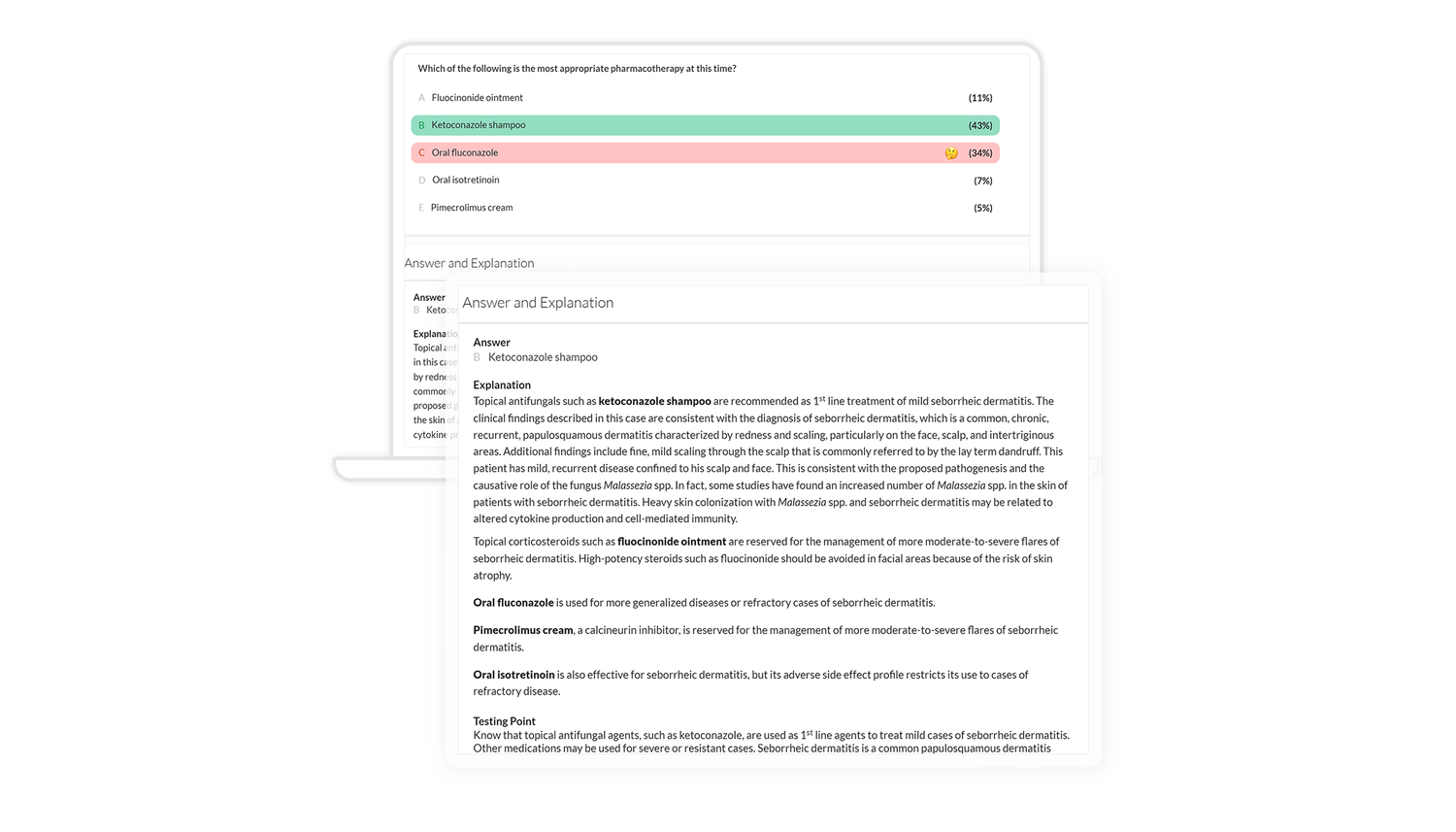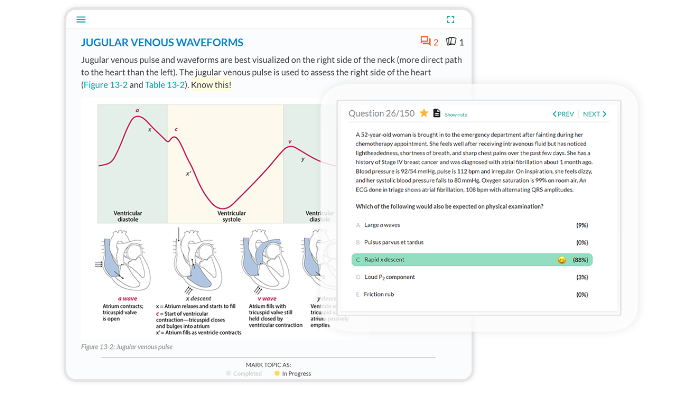 Board-style questions
1,700+ challenging board-style questions
Our Qbank+ interface mimics the board exam. Detailed explanations cover every answer option.
Timed & untimed sessions
Unlimited practice exams
Customize by subject, number of questions, timed or untimed, question type (bookmarked, skipped, previously missed, never viewed), etc.
interlinked content
Interlinked Core content
Every Q&A details where to find the same topic in the MedStudy Core. Digital Q&As are interlinked to the digital Core; get there in a single click!
The Core is sold separately.
Progress report
Track your progress through Qbank+
Easily see how many questions you've answered per section or topic.
confidence levels
New! Curated question sets
Review questions last marked as "not sure" or "low confidence," as well as questions marked "high confidence" but answered incorrectly. Questions disappear from the list when you answer them correctly with high confidence.
The perfect way to repeat questions until you completely understand the concepts!
We cover every topic you'll see on the ABIM boards
Allergy & Immunology
Cardiology
Dermatology
Endocrinology
Gastroenterology
General Internal Medicine

Geriatric Medicine
Hematology
Infectious Disease
Nephrology & Urology
Neurology
Oncology

Psychiatry
Pulmonary Medicine
Rheumatology
Women's and Men's Health
Get the entire Pulmonary Medicine section for free
No credit card required! Get the entire Pulmonary Medicine section of our digital Core, Qbank+ and Flashcards—free for 30 days.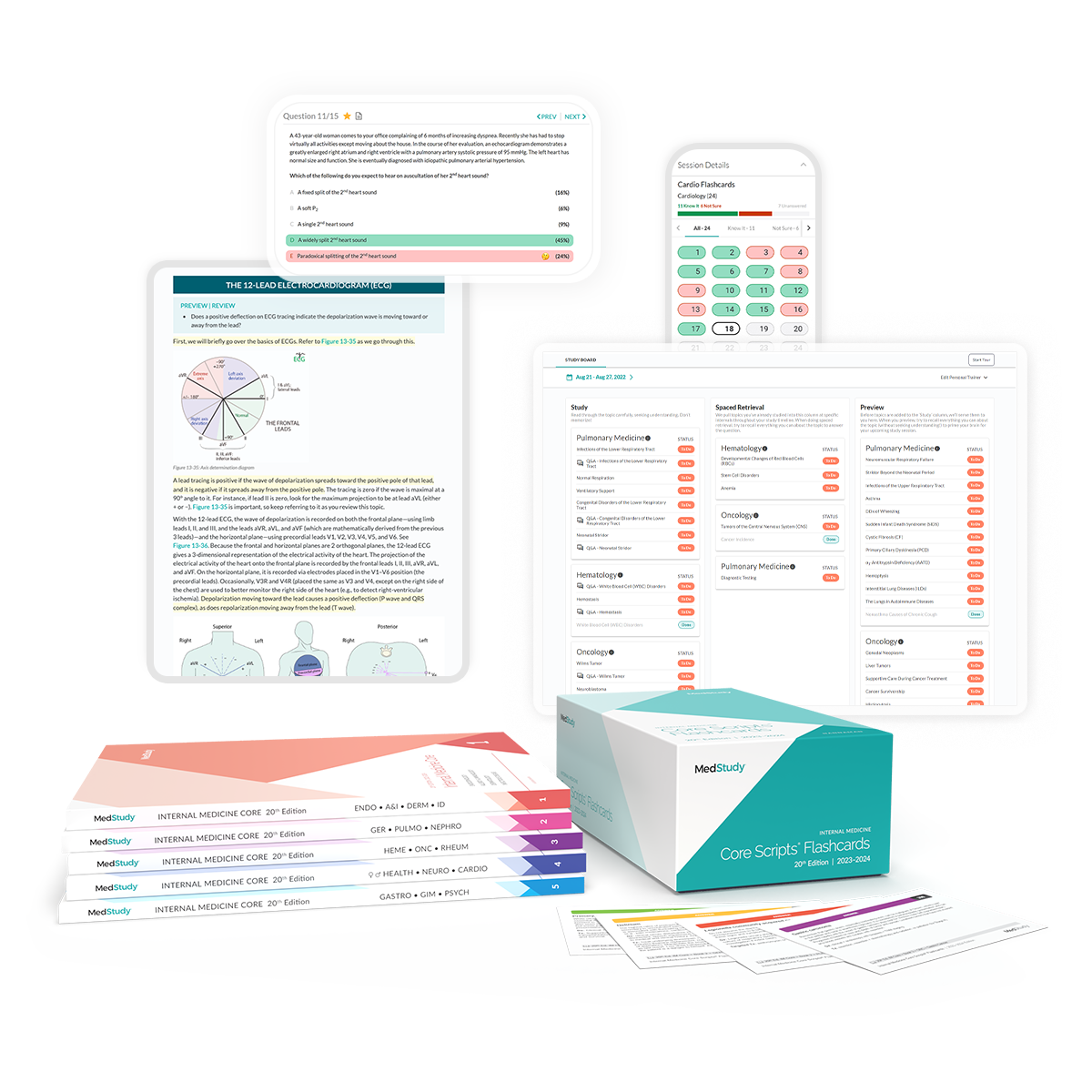 study strong essentials
Save $600 when you bundle with Flashcards and Core
Study Strong Essentials combines focused content with evidence-based learning techniques to ensure you achieve and maintain core competency.
Save with Essentials
Affordable options for residency programs
One of our Program Partners will work with you 1-on-1 to meet your specific learning and budget goals.
Build your group package
ABIM® is registered Trademark of the American Board of Internal Medicine.
Choosing a selection results in a full page refresh.