Internal Medicine Core Scripts Flashcards
Build speedy recall of 
Internal Medicine presentations
! These illness script flashcards are a fun way to exercise recall of diseases, syndromes, and fundamental facts.
What's included

520+ internal medicine illness script flashcards that address the most-tested topics from 16 medical content categories in the ABIM exam blueprint
Answers and excerpts from the latest Core
Printed cards in a box OR online access for 12 months 
(print only) 25 write-you-own blank flashcards
50 CME & MOC

This product is certified for AMA PRA Category 1 Credit™ .

This product provides you with a maximum of: 50 CME credits and MOC points
Regular price

Sale price

$349.00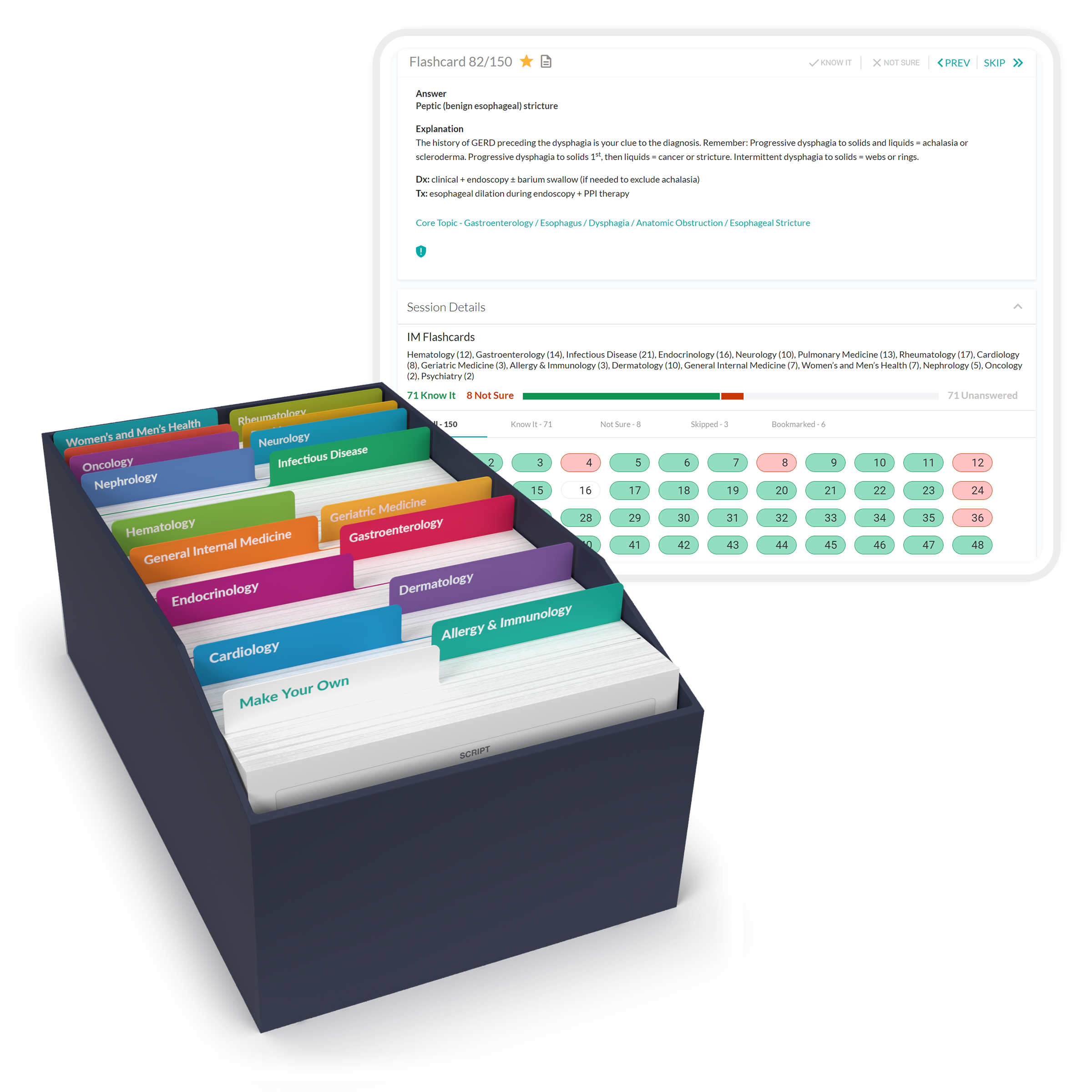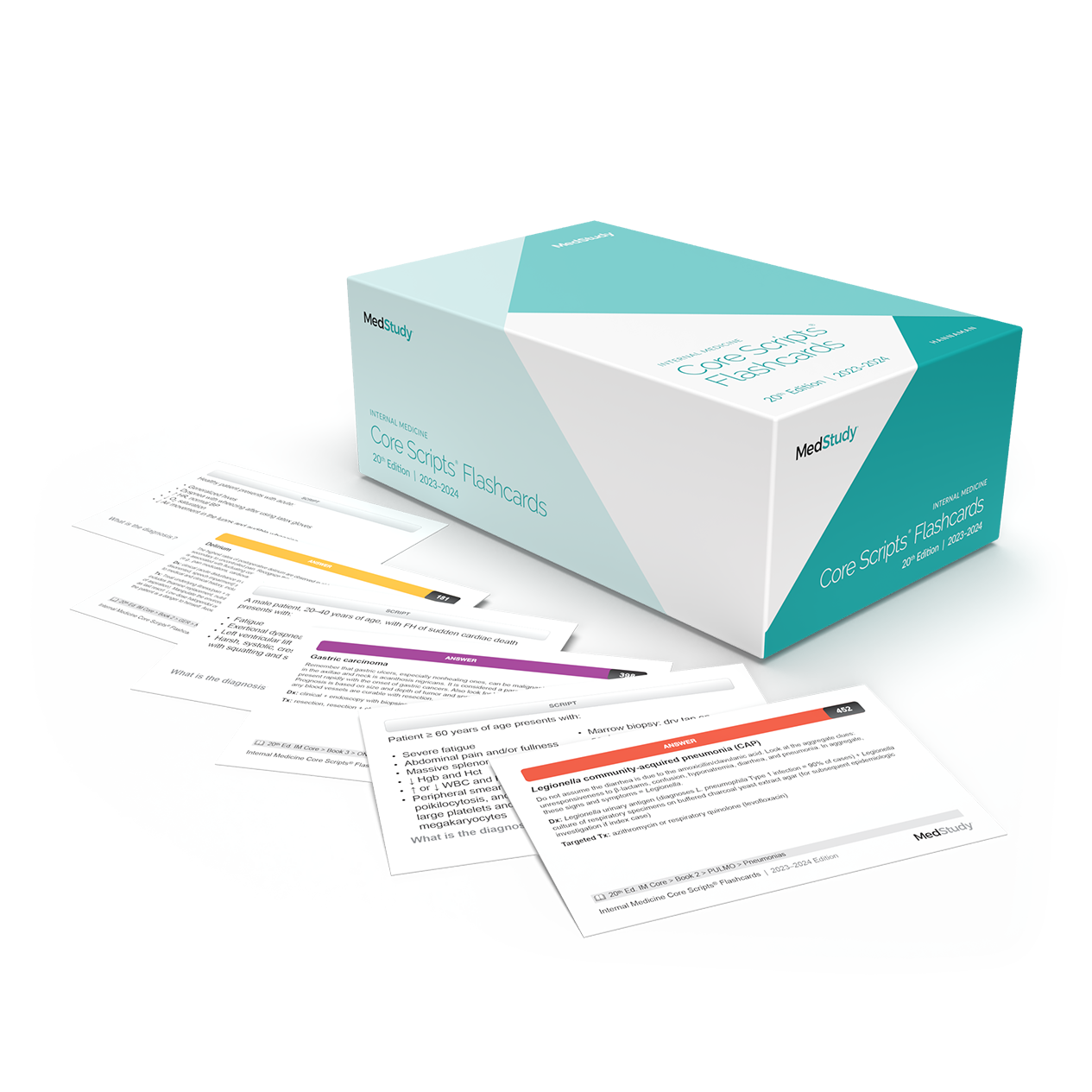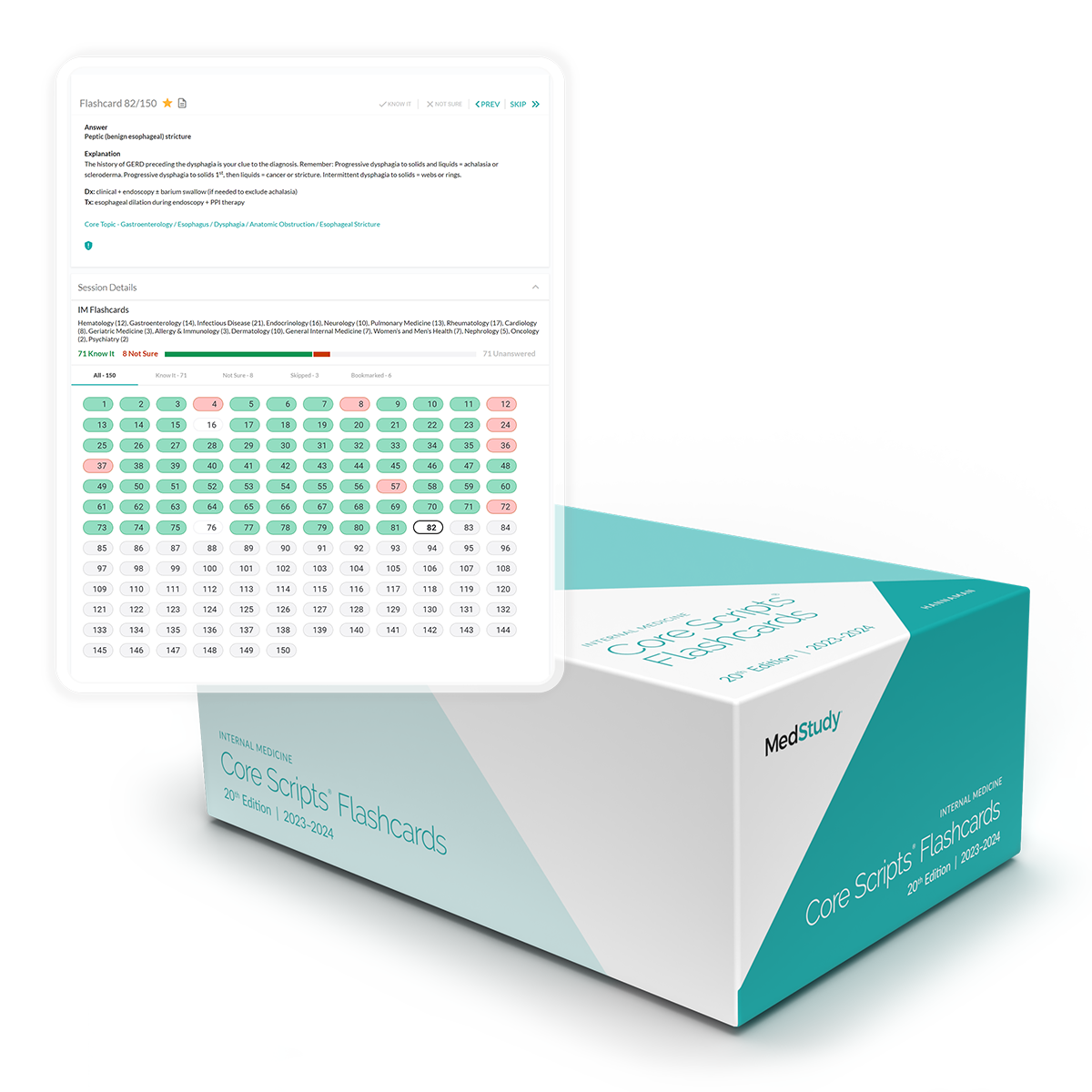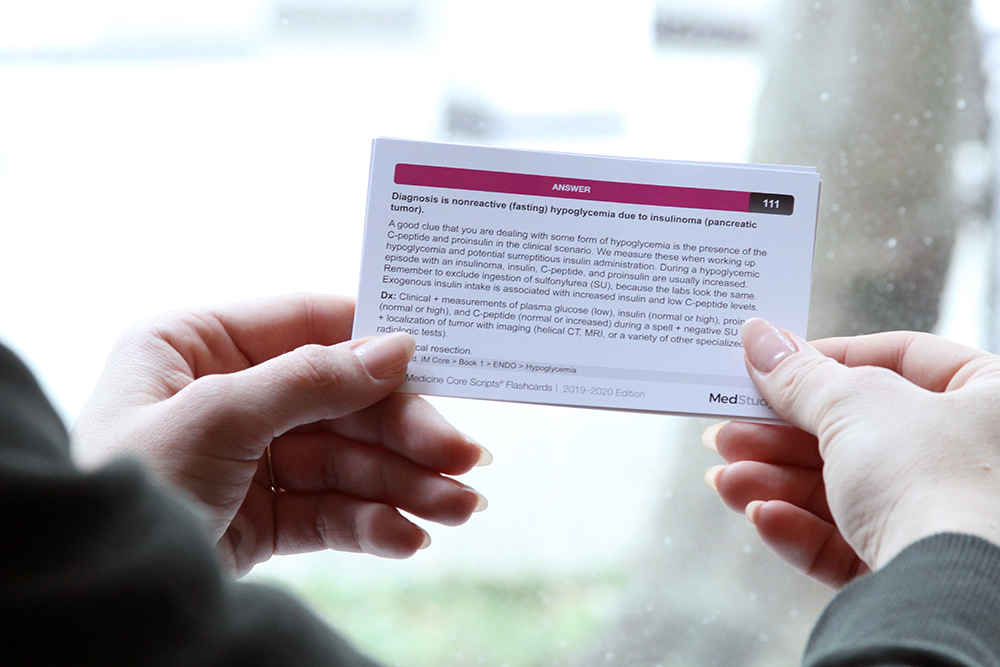 Check out these sample illness script flashcards
Love them! I like the explanations given with the answers. I realized that I had a lot of vague knowledge; the core scripts help me to pin down specific facts.

Susan Waters, MD

The cards are very well done and the explanations are excellent.

Gary Hemann, DO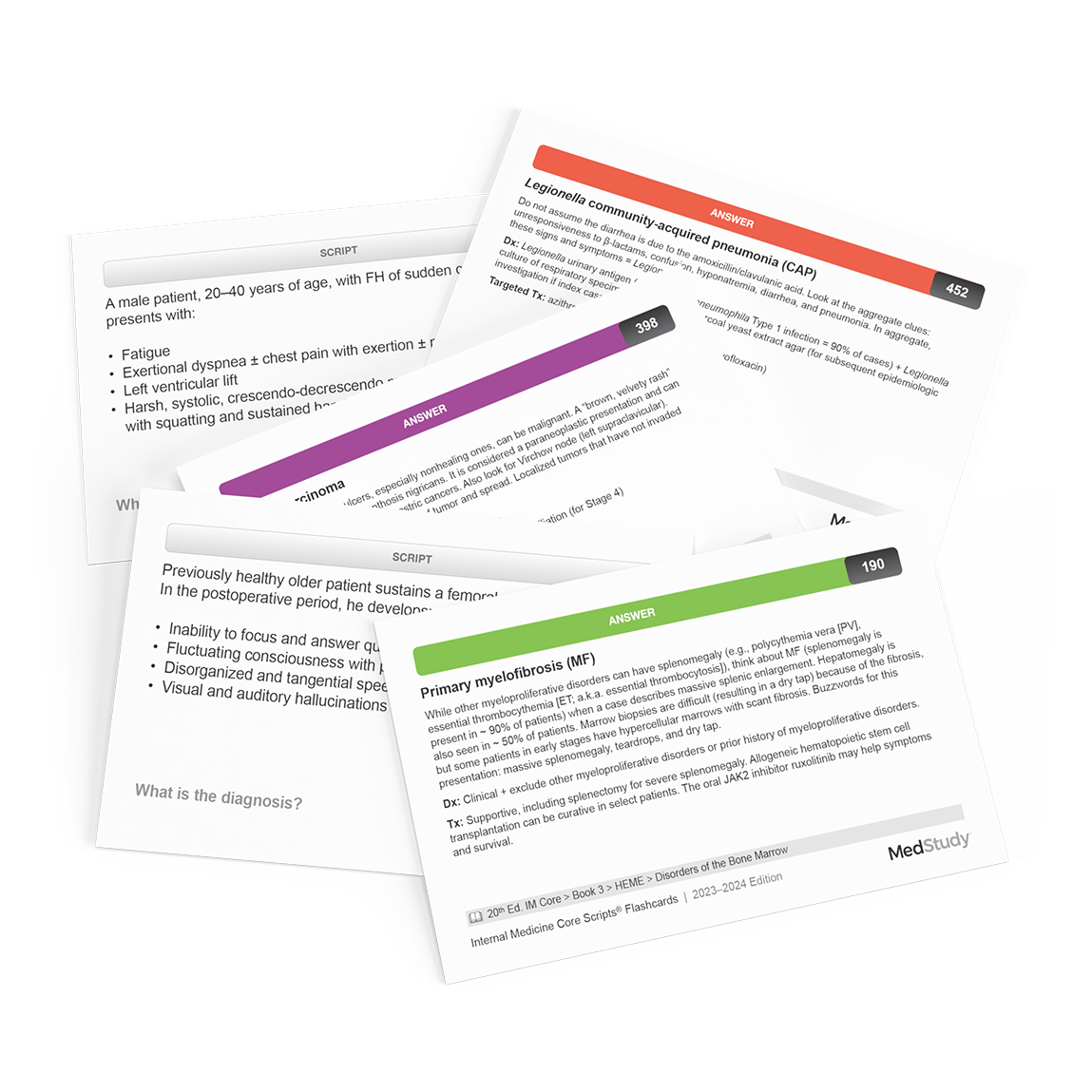 complete coverage of exam blueprint
Set of 520+ Flashcards
A quick and easy way to practice recall of the most-common, most-tested illness presentations and the associated diagnoses and management.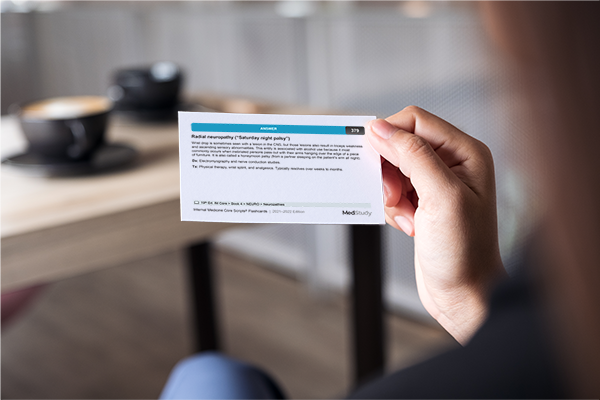 quick practice
Build durable, speedy recall
Flashcards are a great way to practice your recall of concepts. Repetition makes your memory more durable and more easily accessed.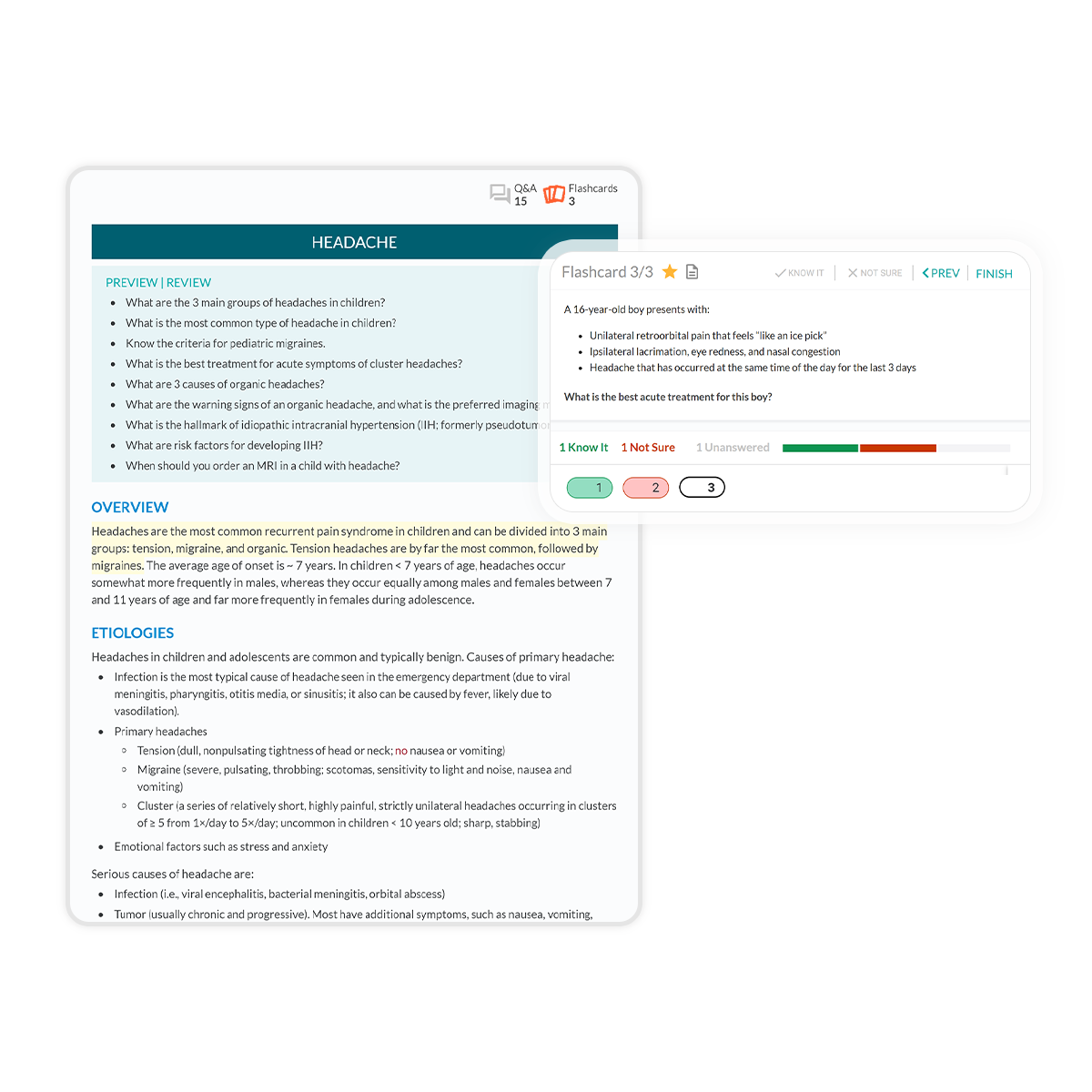 Connected to the core
Dig deeper into each topic
Every Flashcard details where to find the same topic in the MedStudy Core.
Digital Flashcards are interlinked to the digital Core; get there in a single click!
The Core is sold separately.
Reinforce your learning across Internal Medicine
Allergy & Immunology
Cardiology
Dermatology
Endocrinology
Gastroenterology
General Internal Medicine

Geriatric Medicine
Hematology
Infectious Disease
Nephrology & Urology
Neurology
Oncology

Psychiatry
Pulmonary Medicine
Rheumatology
Women's and Men's Health
Get the entire Pulmonary Medicine section for free
Get 30-day access to the entire Pulmonary Medicine section of the Study Strong Essentials (includes the Core, Q&As, Flashcards, and Personal Trainer). No credit card required.
Core Scripts Flashcard FAQs
What's the difference between print and digital?

PRINT: You receive 522 (plus 25 write-your-own blanks) full-color index-size cards to flip through with a box for easy access and storage. They're yours to keep, and you can use them anywhere, even in internet deserts. All of the Flashcards are cross-referenced to topics in the Core.

DIGITAL: You receive 522 mobile-ready digital Flashcards accessible in your myMedStudy account. Digital Flashcards receive ongoing updates, so the content is always aligned with current guidelines. Digital flashcards are accessible for one year, and can be accessed on any device with internet access. Flashcards are interlinked to topics in the digital Core.
What features are available for digital Flashcards?

You can try out every feature with our 30-day free trial.

You can mark each Flashcard as 'Know It' or 'Not Sure'. Any questions you skip or bookmark will be flagged. You can customize future sessions based on these.

Create new sessions by topic, or by previous session performance (skipped, questions marked 'Not Sure', unanswered questions).

You will also see reports based on your past sessions, as well as your progress through the Flashcards as a whole.
What is an illness script?

An illness script is an organized summary of a disease. The framework of an illness script helps doctors with clinical reasoning and differential diagnoses.
What are the elements in an illness script?

Every illness scripts should cover 4 components: patient presentation, pathophysiology, clinical features, diagnosis, and treatment.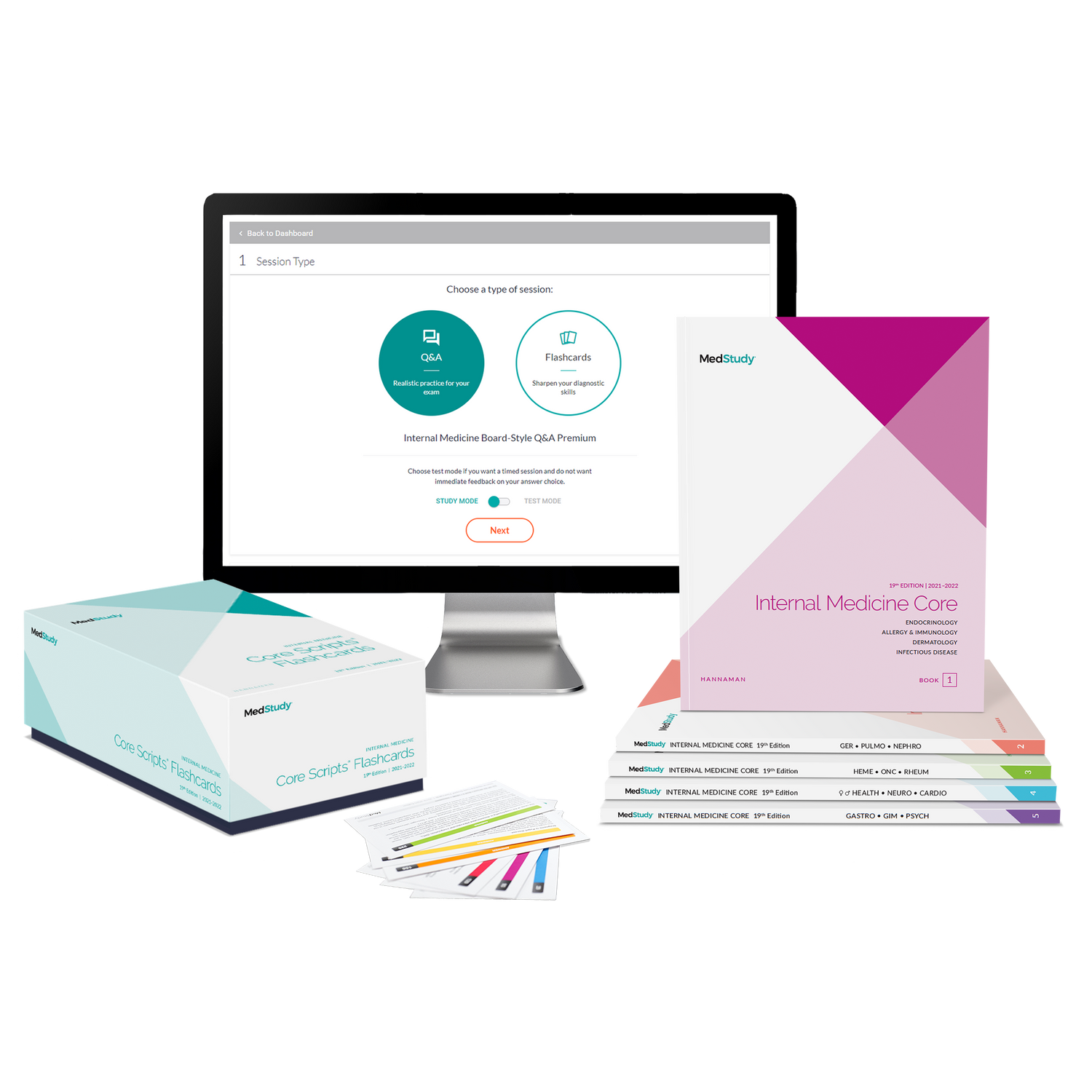 study strong essentials
Save $600 when you bundle with Core and Qbank+
Study Strong Essentials combines focused content with evidence-based learning techniques to ensure you achieve and maintain core competency.
Save with Essentials
Affordable options for residency programs
One of our Program Partners will work with you 1-on-1 to meet your specific learning and budget goals.
Build your group package
Internal Medicine Core Scripts Flashcards
Took the ABIM today. Easily a dozen questions off the top of my head I can think of came from the cards I would've initially thought were low yield. 10/10 would highly recommend.
The cards are very well done and the explanations are excellent.
Love them! I like the explanations given with the answers. I realized that I had a lot of vague knowledge; the core scripts help me to pin down specific facts.
The cards help keep me engaged as I read the material. They help break up the monotony of study and improve recall.
Choosing a selection results in a full page refresh.