Internal Medicine Board-Style Q&As
Build your confidence as you prep for the exam (and practice!) with the most focused, board-style questions with detailed explanations. Improve your recall speed, solidify your medical knowledge base, and easily assess what you know and what you need to focus on with this made-for-you study tool.
With Internal Medicine Board-Style Q&As, you'll get: 
1,700+ Internal Medicine Q&As with Answers & Explanations

New! With a single click, you can easily move between your Q&As and digital Core to enrich your learning of must-know points


Covers all subject areas from the ABIM and AOBIM blueprints

Get CME credits and MOC points as you need them. Max CME Credits/MOC Points: 100
Topics Covered

• Allergy & Immunology
• Cardiology
• Dermatology
• Endocrinology
• Gastroenterology
• General Internal Medicine
• Hematology
• Infectious Disease
• Nephrology
• Neurology
• Oncology
• Pulmonary Medicine
• Psychiatry
• Rheumatology
CME/MOC Points

This product provides you with a maximum of:
100 CME credits and MOC points

Earn as you learn. Earn one point for very four questions answered correctly.

Looking to earn? Learn more
Completed the work? Claim now
Regular price

Sale price

$349.00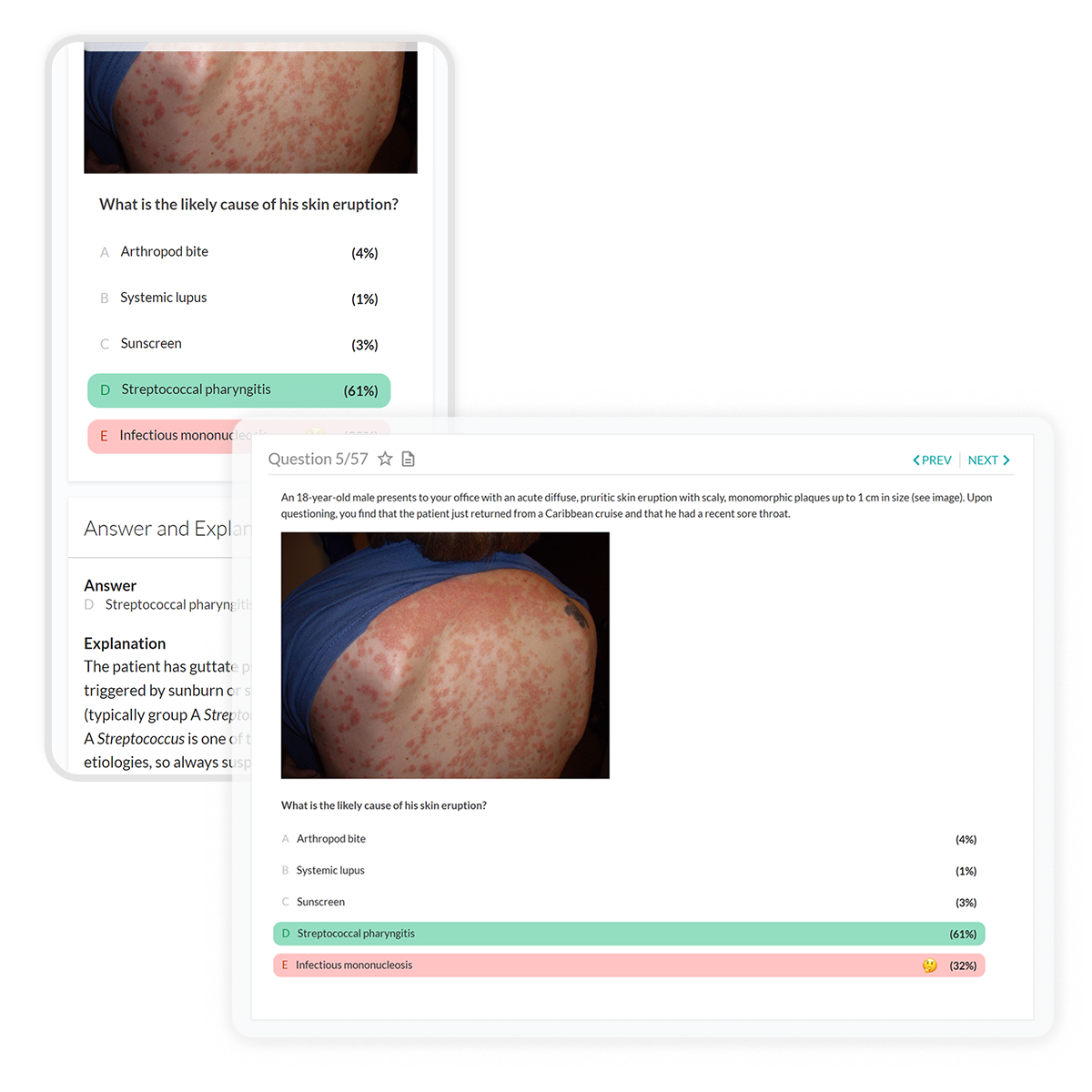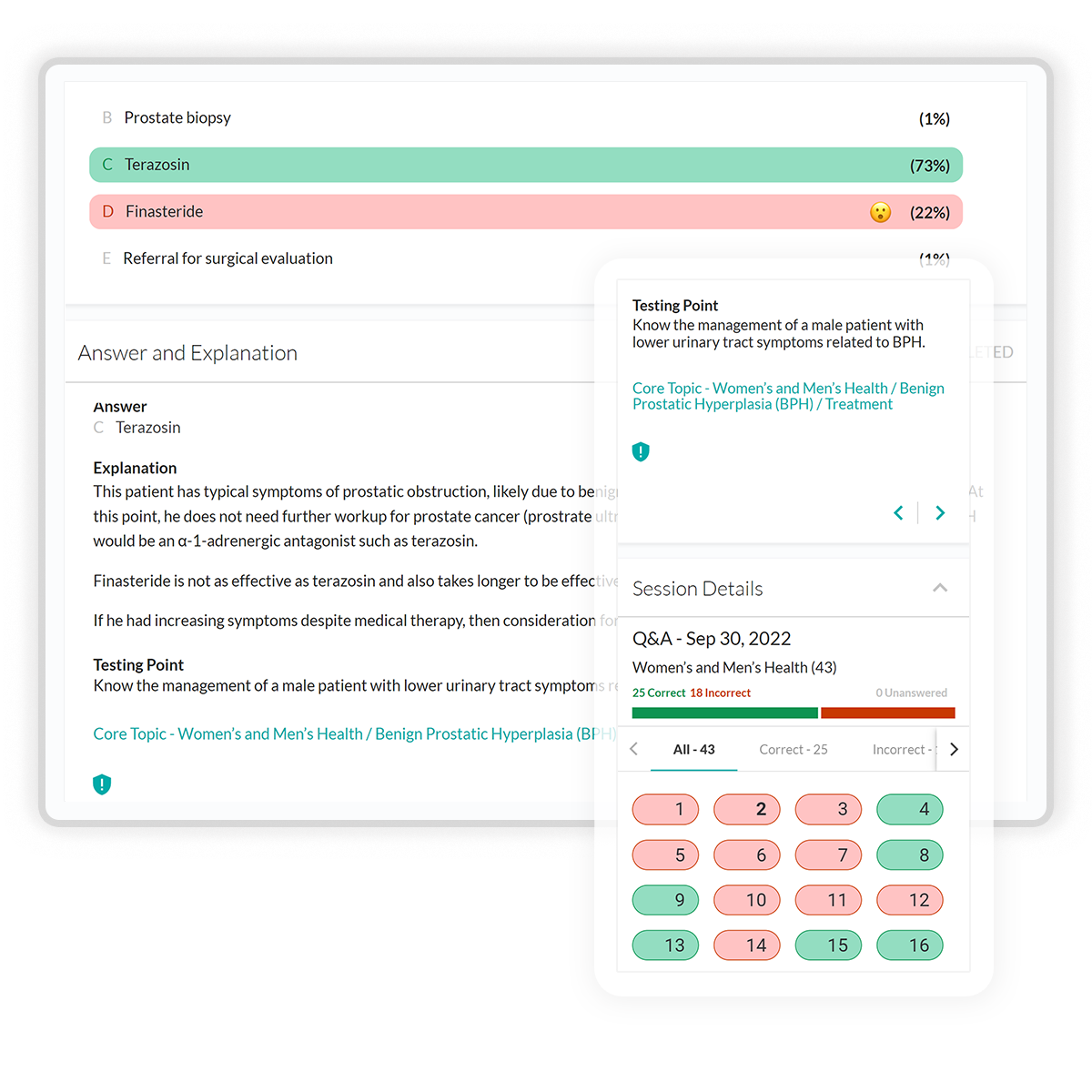 Answer Questions and Review IM Topics in a Realistic Exam Environment
• Practice answering 1,700+ Internal Medicine review questions in an environment similar to the ABIM board exam
• Each question is rigorously reviewed, expertly written, and covers an important board-relevant topic
• Immediately reinforce must-know points with interlinked digital Core topics
• Practice in Study Mode to get immediate feedback, then use Test Mode to simulate an exam environment
• Explanations discuss etiologies, look-alike conditions, and pathognomonic signs, and provide information on distractors
• Earn 1 CME Credit / MOC Point for every 4 questions answered correctly. You can claim in any amount, anytime
Internal Medicine Board-Style Q&As Highlights
Confidence Levels

Quickly identify your knowledge gaps

Get a Detailed Report Card

See a breakdown of your session, plus all of the Internal Medicine board review questions that you've skipped or bookmarked

In-Depth Answers and Explanations

Crystal-clear explanations detail why the correct answer is correct and why the incorrect answers are incorrect. These Internal Medicine review questions are interlinked to the relevant topic in the digital Core.

Quickly Eliminate Incorrect Answer Options

Strikethrough answer options you know for sure are incorrect as you work through each question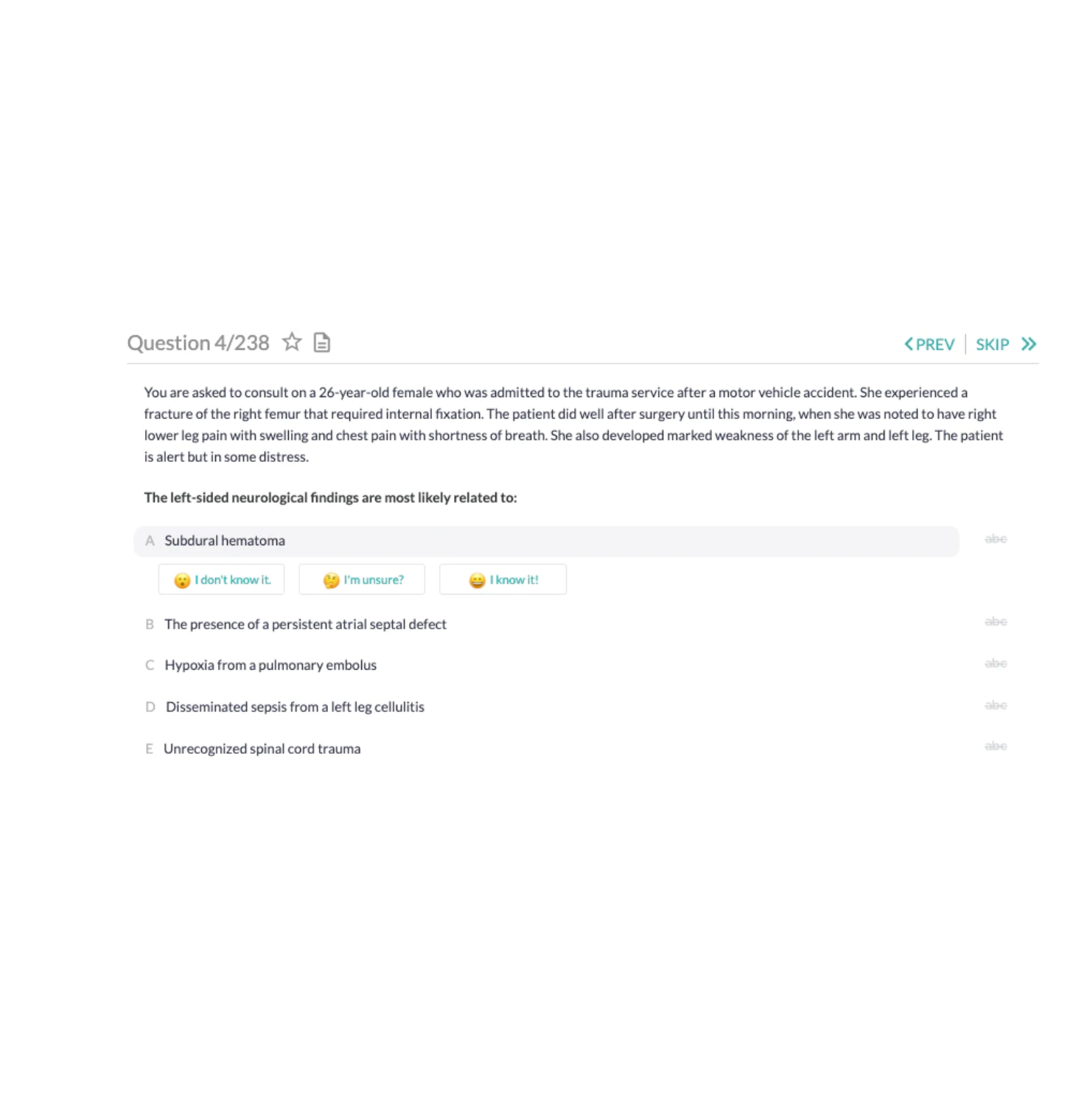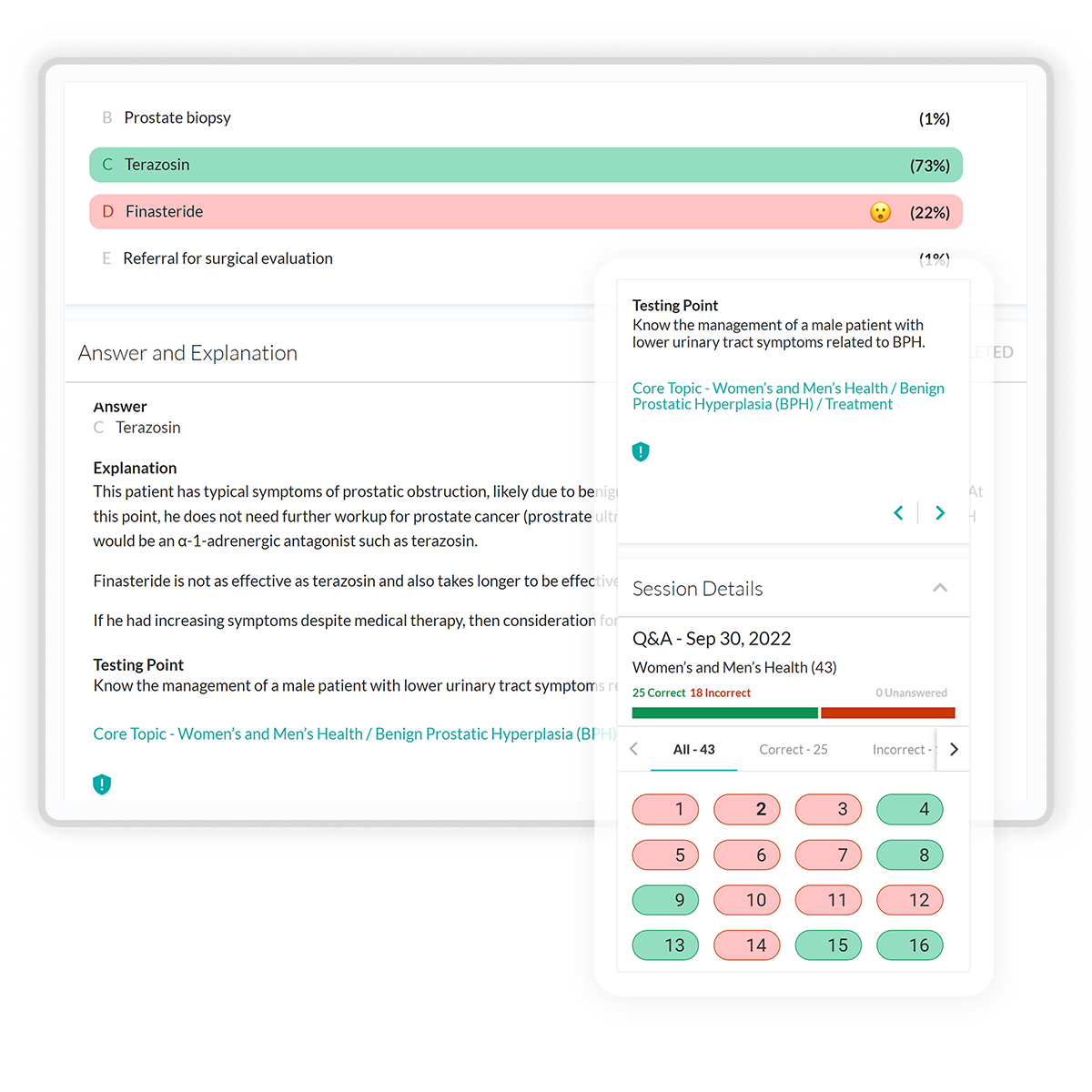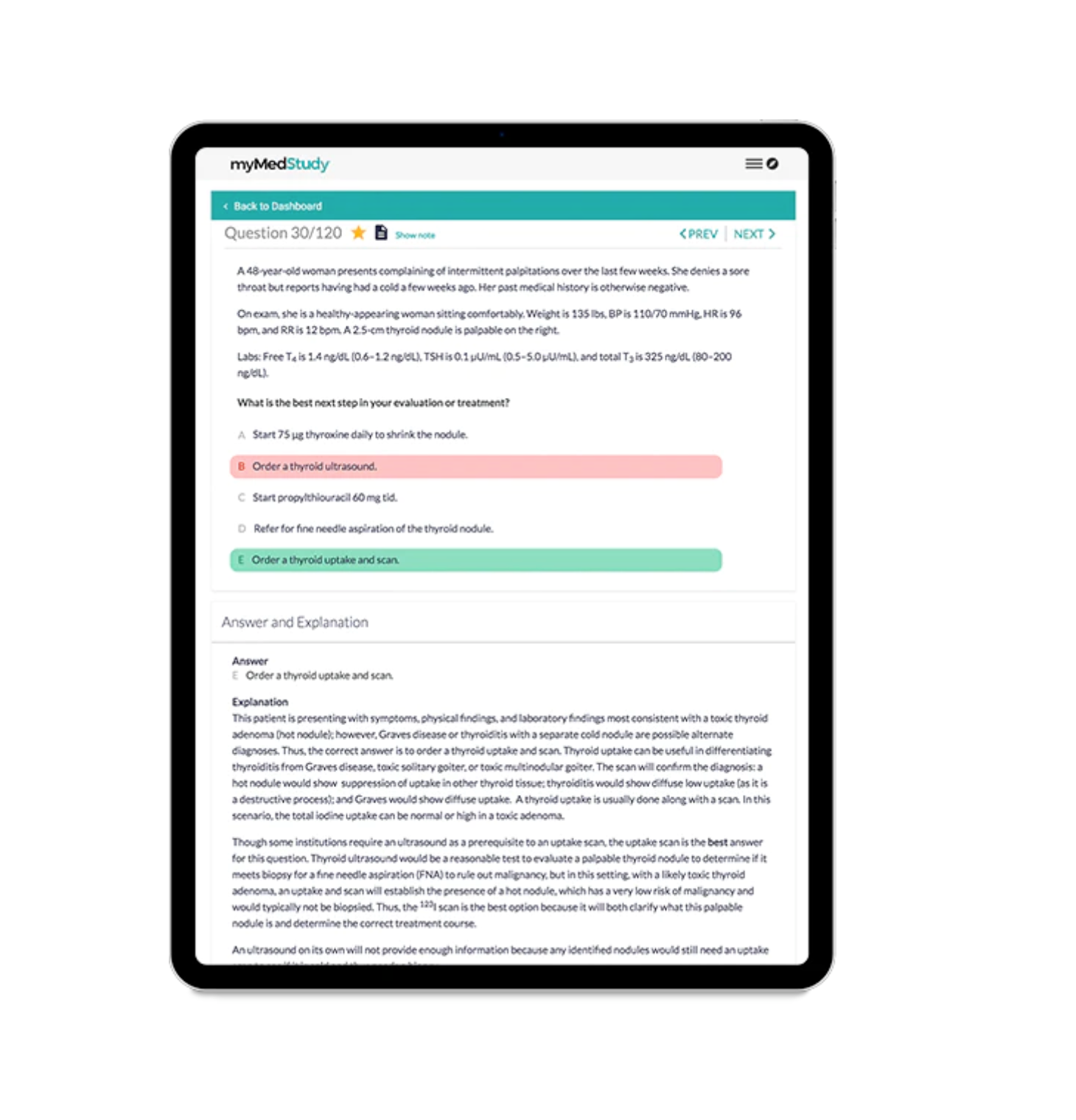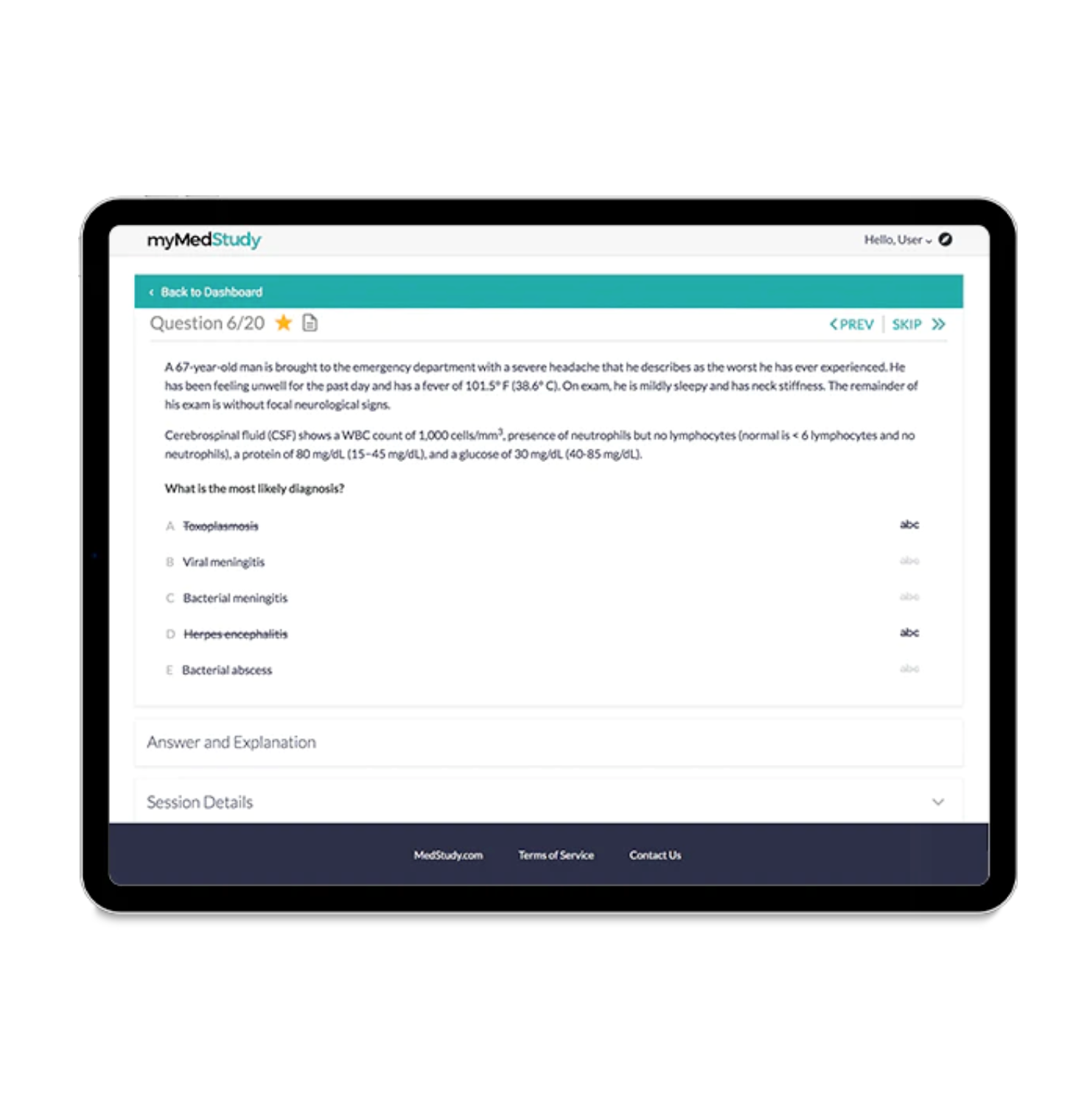 Start your free trial now
30-day access to the entire Pulmonary Medicine section of the Internal Medicine Study Strong Essentials (includes the Core, Q&As, Flashcards, and Personal Trainer). No credit card required.
Start a free trial
I've used MedStudy multiple times. Very effective and efficient.
Definitely helped
Definitely helped improve my knowledge. I was able to determine my gaps based on review questions I was answering incorrectly.
Helpful for recall
Gave me key points regarding disease identification and treatment. I found the online review board testing questions very helpful in recalling information learned.
The MedStudy Method
Lock the material you must know into your long-term memory. The MedStudy Method combines the most effective evidence-based learning techniques with the best board-focused material in an easy-to-apply, three-phase approach to study.
Preview

Preview topics and assess your knowledge within the Preview Questions in your Core or Videos

Study

Read the Core, watch course or video lectures, and/or listen to audio material with the goal of a solid understanding of the topics

Spaced Retrieval

Practice recall of topic material with progressively spaced repetition of Preview | Review Questions, Board-Style Q&As, and Flashcards
Choosing a selection results in a full page refresh.